Since 1969, Tokyo Concerts Inc. administering Tokyo Concerts Lab. has contributed to creating new music pieces called contemporary music with composers and musicians, being active at the forefront. We believe that the challenging spirit of contemporary music is one of the important elements to develop our culture. That is the reason why we named our hall 'Lab', laboratory. We hope that your ideas and creativity will create new opportunities to connect art with people. The size of Lab. is 190㎡ and the number of seats are 100. Lab. is very suitable not only for ensemble concerts and performance art events, but also for rehearsal of orchestra, choir, and dance, etc. We look forward to receiving your bookings. * In March, we had a renewal construction and the area was broadened from 160㎡ to 190㎡.
Basic fees (Net)
| | |
| --- | --- |
| Morning (9:00-13:00) | 16,000yen |
| Afternoon (13:00-17:00) | 24,000yen |
| Evening (17:00-21:00) | 28,000yen |
Morning-Afternoon
36,000yen
Afternoon-Evening
46,800yen
All day
54,400yen
(the use of 2 or more consecutive days: 47,600yen/day)
The fee for using on the weekdays, weekends, and holidays is the same.
Overtime use: 21:00-22:00 : 8,000yen (net) (necessary to apply in advance)
After 22:00: Not available
Rental per hour (Gross)
Morning (9:00-13:00) 3,500yen/hour
Afternoon (13:00-17:00) 5,000yen/hour
Evening (17:00-21:00) 6,500yen/hour
Application should be submitted from one week before to 1 day before the day you use, only by phone call.
Piano rental costs 5,000yen (gross)/hour
Depending on our staff's availability, we may not be able to rent.
Facilities
➢ Music stands (100)
➢ Stacking chairs(120)
➢ Podium (1)
➢ White board (1)
➢ Foldable table (1)
➢ CD player (1)
➢ Stand for mallets (1)
➢ Chair for contrabassist (1)
➢ Stage lighting 5,000yen
➢ Projector 2,000yen
➢ Speaker with built-in amplifier, with two microphones and stands 2,000yen
➢ Dressing room : 3,000yen/ time frame
➢ Car parking : 300yen/hour (booking in advance is necessary)
➢ Piano (Steinway C227)
1 frame =5,000 yen
2 frames=8,000 yen
3 frames=10,000 yen
Matsuo Musical instruments CO.,Ltd. manages to tune the piano.
Fee is based on the provision of Matsuo Musical instruments CO.,Ltd.
When you need our staff's support for the stage lighting or receptions, etc., please let us know.
How to book
1. Check the availability
Please feel free to contact us, Tokyo Concerts Inc. (03-3200-9755 /
+81332009755) and inquire about the availability. We are open from 10am to 6pm JPT, on weekdays.
[The commencement date of application]
For concerts or other types of performance: the first business day in a month, 1 year before the date of using (minimum number of time frames to book is 2).
For rehearsals, practice, etc.: the first business day in a month, half year before the date of using
2. Submit the application form
Send the application form below via e-mail (to lab@tokyo-concerts.co.jp) or fax (03-3200-9882).
3. Pay the fee
After issuing the invoice, please pay the fee within 2 weeks. If we couldn't confirm your payment in a 2-week period, the reservation might be canceled.
All bank charges-commission fees are paid by the customer.
4. Issue the confirmation note
After payment, we will issue the confirmation note. Please, bring it and show it when you are about to use our hall.
In case you need to change or cancel your booking
Please contact us for changing or cancelling your booking.
It is required to pay cancellation fee when you cancel your booking 2 weeks after you got the invoice.
Until 1 day before 6 months: 30% of the whole fee
Within 6 months before the date of using : 100% of the whole fee
*If you have already paid the fee and you wish to cancel the booking within 2 weeks after issuing the invoice, we will refund all fees. After 2 weeks have passed, we will return the fee with the cancellation fee being subtracted. Please, pay the bank transfer fee. As for the fee of using the facilities, we will refund all.
Restoration
Please be punctual about time and kind enough to carry your baggage in/out. Also, leave the hall as clean as you found it.
Car Parking
If you need to use our car parking, please let us know in advance.
If your car is a large-sized car, please ask us if it's possible to park.
Smoking
Smoking is not permitted in the hall. There is a smoking area outside.
Prevention from fire and correspondence for emergency situations
Please follow the instructions of the staff. Also, check the emergency exit, evacuation route and the placement of fire extinguisher, etc.
Transfer/Sublet
You are not allowed to transfer or sublet the hall without our permission.
Exemption from responsibilities, compensation for damages
We will not take the responsibility for theft, loss, and personal accidents in the hall.
In case you caused damage to our facilities in the hall, please inform the staff immediately.
If the damage is caused by you, we may ask you to compensate it.
Revocation of the permission to use
We may revoke the permission to use the hall when users come under any of the following. (Even if loss takes place to users because of it, we will not take any responsibility.)
When the usage differs from the application that users submitted
When users' behavior may harm the public order or good manner
When the events contrast with our policy or usage purposes
When the fee is not paid by the due date
When users or sponsors violate the "Guideline for How Companies Prevent Damage from Anti-Social Forces" or "The Tokyo Metropolitan Ordinance for Eliminating the Organized Crime Groups" enacted by the Japanese government
When the number of users exceeds the limitation and it may cause the troubles to local people
When users bring animals or dangerous substances
Access
Train
6 minute-walk from 'Waseda' station (Exit 2 or 3b), Tokyo Metro Tozai Line
10 minute-walk from 'Nishi-Waseda' station (Exit 2), Tokyo Metro Fuku-Toshin line
Train&Bus
2 minute-walk from'Nishi-waseda' bus stop, Metropolitan bus bound for 'So-dai Seimon' from 'Takadanobaba' station (Exit Waseda side), JR Yamanote Line/Seibu Shinjuku Line
Tokyo Concerts Lab.
2-3-18, Nishi-waseda, Shinjuku-ku, Tokyo 169-0051 Japan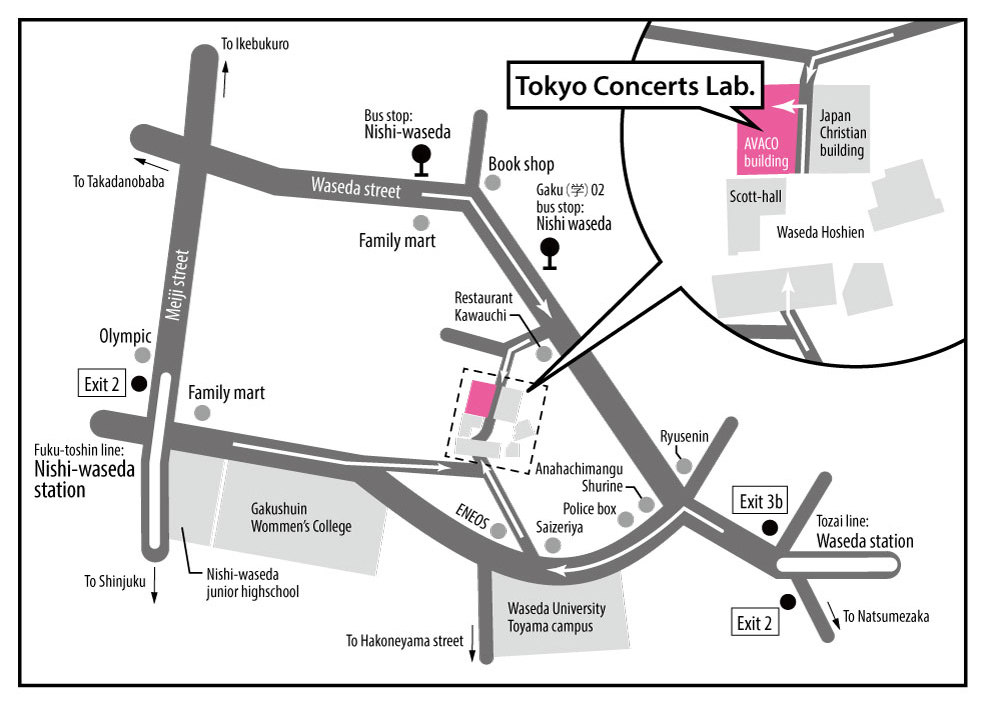 >> Google MAP